ShamanTalk Episode 98

ReFocus Week

How to Deal With Negative Energy
This week we are deepening our understanding of how we can deal with negative energy. 
I'm adding some info to this topic, and then we will revisit episode 30. How to deal with negative energy. 
It's essential to spend time going back over topics – as we learn and grow, there is always a new level of understanding waiting for us. 
So let's have a look at a common problem you might face:
When someone repeatedly drains everyone around them, how do you maintain a sense of compassion without getting sucked into their doom?
And how do you act in a way that doesn't reinforce their negativity?
Here's what I've come up with:
Resist the urge to judge or assume.
 Stay out of the hole.
Maintain your boundaries.
Disarm their negativity, even if just for now.
Temper your emotional response.
Question what you're getting out of it.
I go into more detail on how to do this in this episode. 
But what about inner negative influences?


The negative cycles and thought patterns that may block you from reaching your true potential?
In order to see clearly, you must work with your blocks – and often our habitual negative thoughts.
You must be brave with this work and be willing to see your own faults. To be able to see what is normally hidden to you.
In these times of flux, it's important to pay attention to what you are thinking, how you are feeling and where you send those thoughts and feelings.
How do you:
Become aware of energetic acts of violence?
Work with your own thoughts and process
your negative thoughts safely?
Break the Habit of Negative thought patterns? 
I answer all of these questions and more in this episode, so be sure to tune in. 
Activities & Journeys
1 – Go on a journey to meet your Guardian Guide (or re-strengthen your connection with this guide if you've already met them.

Click here to download the how-to guide.

 Note: The Guardian Guide was formerly known as The Body Protector
2 –  Go on a journey and ask to be taken to the place of Mirrors. Ask the mirrors to show you clearly what (if anything) you are feeding when you interact with a negative person. For example, are you feeding your Saviour complex, or perhaps their need to be met with high emotional responses. 
Take this information and use it to adjust how you interact with negative energy (and perhaps even notice when you are also negative!)
Unlock live healing circles, ceremonies, a growing library of Shamanic workshops & more!
 Step into the Centre's very special Shamanic sanctuary. Inside Spiritual Momentum. you'll find live weekly gatherings, skill-building courses, a book club, and near-daily support from Rhonda and her team of trusted practitioners. 
Oh, it gets better! Get full and immediate access to ALL THE PERKS when you start a risk-free* membership today
*30-day 'no questions asked' money back guarantee.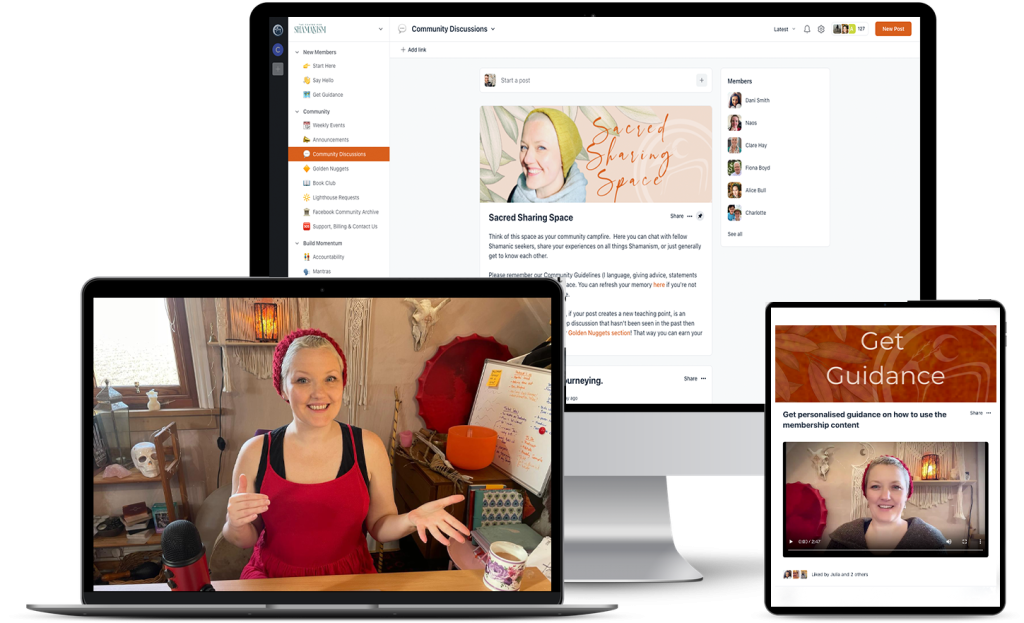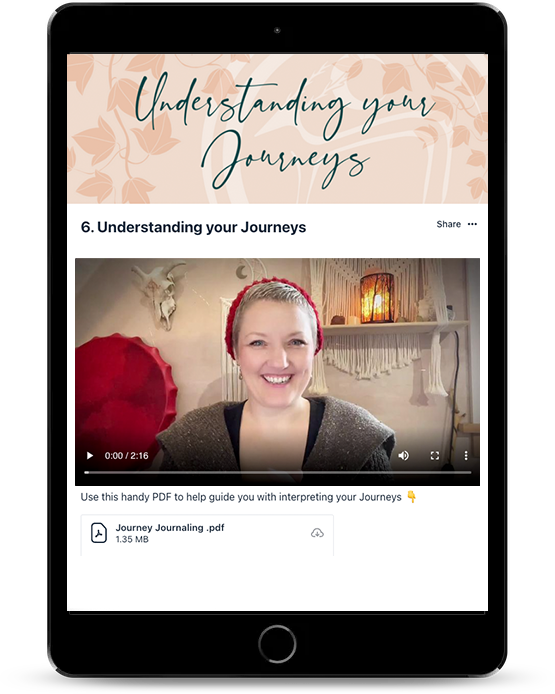 FREE COURSE: Learn how to…
Journey safely to the spirit realm &
interpret your experience with confidence
.
Beginner-friendly! Grab a simple, step-by-step process for journeying to the Spirit Realms & Celtic Otherworlds. Then take a guided journey led by an experienced Shamanic practitioner. So you can speak with your Spirit Guides and Power Animals.
Subscribe & Review in iTunes
I'd love for you to subscribe to my podcast! I don't want you to miss an episode. I'm adding a bunch of bonus episodes to the mix and if you're not subscribed there's a good chance you'll miss out on those.
Now if you're feeling extra loving, I would be really grateful if you left me a review over on iTunes, too. Those reviews help other people find my podcast and they're also fun for me to go in and read. I'd love to know what your favourite part of the podcast is. Thank you!
Other ways to enjoy this podcast
Disclaimer: The product links on this page are affiliate links and I will receive a small commission (at no extra cost to you) if you purchase through them.