ShamanTalk Episode 104

Things I Wish I'd Known AtThe Beginning Of My Spiritual Journey
I didn't realise how hard it would be. 
At the start of my spiritual journey, I dove in headfirst. I read all of the books & listened to all of the podcasts. 
I was taking in a huge amount of information but over time I started to realise that nothing was really changing for me. 
I began to feel defeated and would beat myself up about my 'lack of progress'. 
Then one day it dawned on me: 
I realised that I was reading about the work, but not actually doing the work! 
There's a huge difference there, and it's one I wish I'd known at the start of my spiritual journey. 
It would have saved me quite a lot of time and heartache. 
In this week's episode of ShamanTalk, I hope to be able to save you some time by telling you all about the eight main things that I WISH I had known at the start of my spiritual journey. 
Perhaps you can learn from my mistakes and avoid some of the common pitfalls that can stall you on your spiritual journey?

I take a deep dive into these eight things I wish I'd known:


The ups & downs – sometimes you'll feel great, and other times you'll feel awful and every emotion in between.


Knowing that I would lose friends.


How hard doing the actual work really is.


How I worried about getting it right or wrong.


Being anxious about how to trust my messages.


How long personal transformation actually takes.


How effective my ripples of change could be if I focused solely on myself.



That many people would tell me their way was the right way and my way was the wrong way
Activities & Journeys
Journey with your Guides in the Middle Realms and ask to be taken to meet your Future Self. Ask your Future Self for Guidance on what you can do in the present moment for your best & highest good.
Unlock live healing circles, ceremonies, a growing library of Shamanic workshops & more!
 Step into the Centre's very special Shamanic sanctuary. Inside Spiritual Momentum. you'll find live weekly gatherings, skill-building courses, a book club, and near-daily support from Rhonda and her team of trusted practitioners. 
Oh, it gets better! Get full and immediate access to ALL THE PERKS when you start a risk-free* membership today
*30-day 'no questions asked' money back guarantee.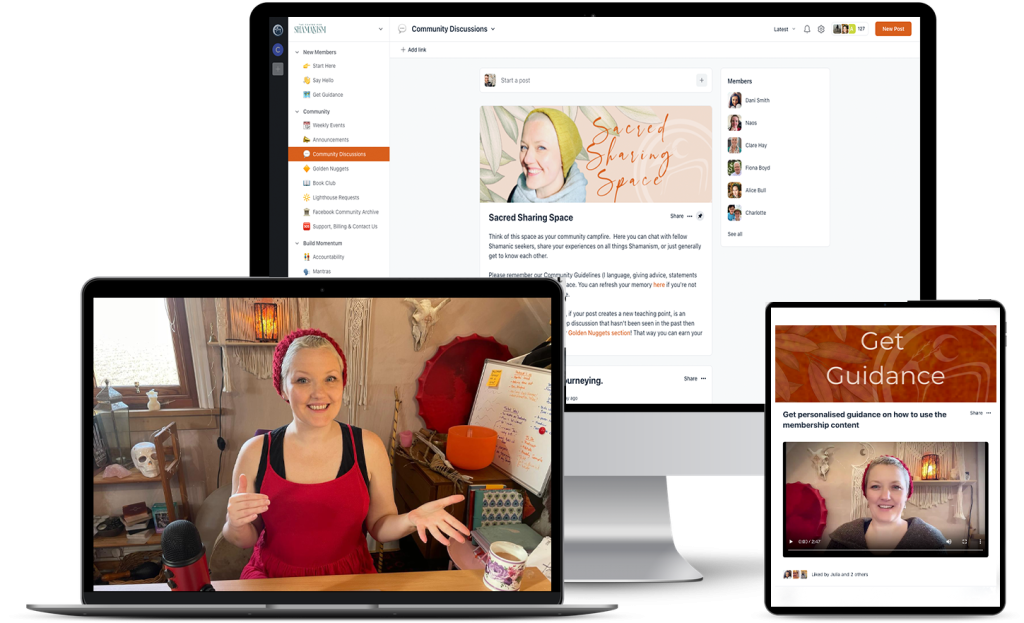 Subscribe & Review in iTunes
I'd love for you to subscribe to my podcast! I don't want you to miss an episode. I'm adding a bunch of bonus episodes to the mix and if you're not subscribed there's a good chance you'll miss out on those.
Now if you're feeling extra loving, I would be really grateful if you left me a review over on iTunes, too. Those reviews help other people find my podcast and they're also fun for me to go in and read. I'd love to know what your favourite part of the podcast is. Thank you!
Other ways to enjoy this podcast
Disclaimer: The product links on this page are affiliate links and I will receive a small commission (at no extra cost to you) if you purchase through them.