ShamanTalk Episode 103

Finding Relief From an Excessive Mental Load
What is a mental load?
The invisible, non-tangible tasks involved in operating a family are called the mental load, also known as cognitive labour.
The mental load is the unseen – not necessarily the physical tasks but the remembering of all of the daily stuff that needs to be done – so shopping, dinner prep or when laundry needs doing – it also includes reaching out to other family members and remembering birthdays.
What are some signs to watch out for?
Are you completely in charge of maintaining all social connections?
Are you the only one paying attention to the emotional needs within your family? Including your own!
You are the one who has to remember. Doctors/dentists appointments, school forms, dress down days, friends parties, the lightbulb in the bathroom needs changed.
You are the household manager – you make sure the household operates – you see everything that needs to be done, and you delegate those tasks.
You're the person in the household who carries the worries. You carry the worry, and you are also responsible for navigating and finding the solutions to those worries – be it financial, social or practical.
If you carry most of this load, it makes sense if you're feeling exhausted and resentful.
Carrying the full mental load of your own stuff is a lot! When we add in the mental burden of a family, it can become unbearable.
Have open, honest conversations to get to grips with this issue. Work as a team rather than from a place of blame. This is a positive way to look at this issue. 
Use I language and be prepared to let go of any control!
Make space for other people to step into a more empowered role within the family unit. Accept that mistakes will happen; no one is perfect, and don't lose your sense of humour!
Activities & Journeys
Journeys with your Guides and ask to be shown the energetic nature of your mental load and ask for a mind cleansing so that you can begin to make changes in your life without blame.
Unlock live healing circles, ceremonies, a growing library of Shamanic workshops & more!
 Step into the Centre's very special Shamanic sanctuary. Inside Spiritual Momentum. you'll find live weekly gatherings, skill-building courses, a book club, and near-daily support from Rhonda and her team of trusted practitioners. 
Oh, it gets better! Get full and immediate access to ALL THE PERKS when you start a risk-free* membership today
*30-day 'no questions asked' money back guarantee.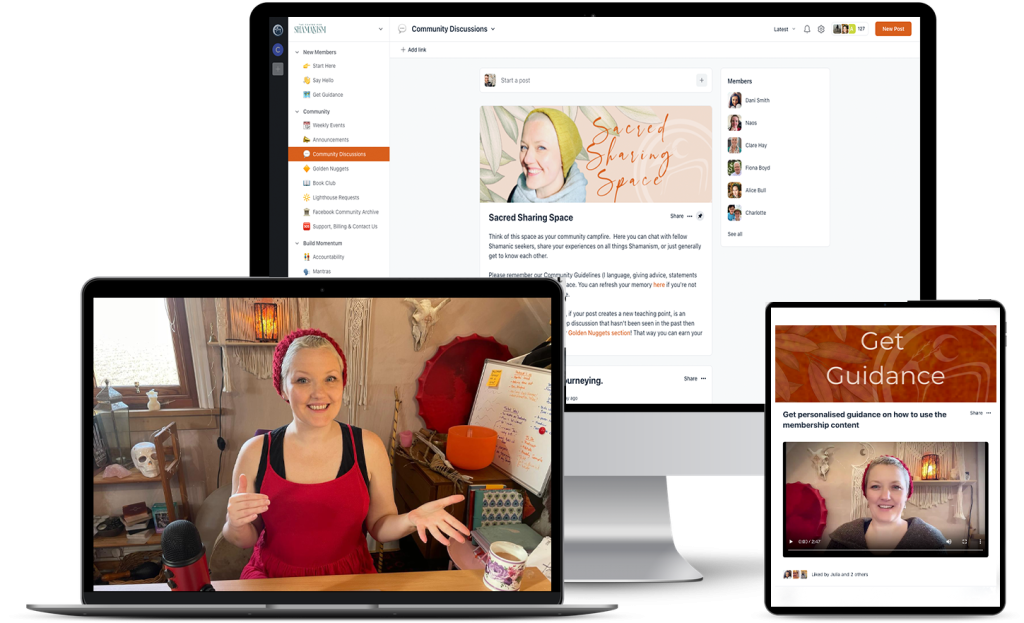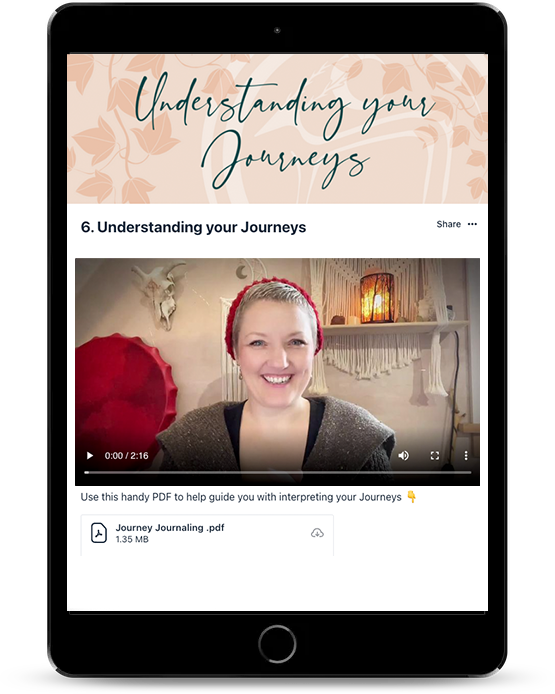 FREE COURSE: Learn how to…
Journey safely to the spirit realm &
interpret your experience with confidence
.
Beginner-friendly! Grab a simple, step-by-step process for journeying to the Spirit Realms & Celtic Otherworlds. Then take a guided journey led by an experienced Shamanic practitioner. So you can speak with your Spirit Guides and Power Animals.
Subscribe & Review in iTunes
I'd love for you to subscribe to my podcast! I don't want you to miss an episode. I'm adding a bunch of bonus episodes to the mix and if you're not subscribed there's a good chance you'll miss out on those.
Now if you're feeling extra loving, I would be really grateful if you left me a review over on iTunes, too. Those reviews help other people find my podcast and they're also fun for me to go in and read. I'd love to know what your favourite part of the podcast is. Thank you!
Other ways to enjoy this podcast
Disclaimer: The product links on this page are affiliate links and I will receive a small commission (at no extra cost to you) if you purchase through them.