ShamanTalk: Episode 39

Letting go of the Past and Weaving Shamanism into your Future
The purpose of looking to the past is to not wallow in it, but rather to integrate it so that we can wholeheartedly embrace where we want to go in the future. Integrating the past is about deeply acknowledging what was and taking with us any wisdom arising from our experiences.
All of us have had difficult or painful experiences in our lives, and some of us more than others. Having the courage to look at these experiences and say "that was very difficult for me" is the starting point for integrating the past.
And, by acknowledging the past we allow it to stay in its rightful place ― the past, so that we may move on. Unwillingness to work through and integrate difficult experiences can often result in what is unresolved resurfacing in the future.
But what is also important is to remember that our past is part of us and has helped shape us.
Integrating our skills and lessons is also important. Do not discard your past learnings because you feel different or know differently. Everything we learn has value. Initially, I felt my years in accountancy were wasted. But I've gained so much experience, knowledge of people, knowledge of the struggles of corporate women, understanding of how to run a business. That has brought amazing value to my life now that I've embraced what I want to keep and released what I'm done with.
I think it's so important to shed the old stories that don't serve us but hold onto our skills and knowledge. Those are always supportive for us in some way!
I heard a lot about transferrable skills in my corporate life! So, what transferable skills do you bring to your shamanic path?
1.      People skills
2.     Reiki
3.     Mediumship
4.     Yoga
5.     Meditation
6.     Counselling
7.     Hypnotherapy
8.     Academia
9.     Teaching
Remember, Shamanism can be thought of in terms of 'as well as' rather than 'instead of'.  If we can weave it into our life, it will inform and enhance all our endeavours.
Journeys for this week
1.     It's important to weave shamanism into our lives. Go on a Journey with your Guides to the Middle Realm and ask to be shown the difference energetically when you merge your worlds and what it looks like when you don't.
2.     Ask your Guides to take you on a healing journey to the Upper Worlds to give you something that will support you to integrate all parts of your life in a seamless flow.
Unlock live healing circles, ceremonies, a growing library of Shamanic workshops & more!
 Step into the Centre's very special Shamanic sanctuary. Inside Spiritual Momentum. you'll find live weekly gatherings, skill-building courses, a book club, and near-daily support from Rhonda and her team of trusted practitioners. 
Oh, it gets better! Get full and immediate access to ALL THE PERKS when you start a risk-free* membership today
*30-day 'no questions asked' money back guarantee.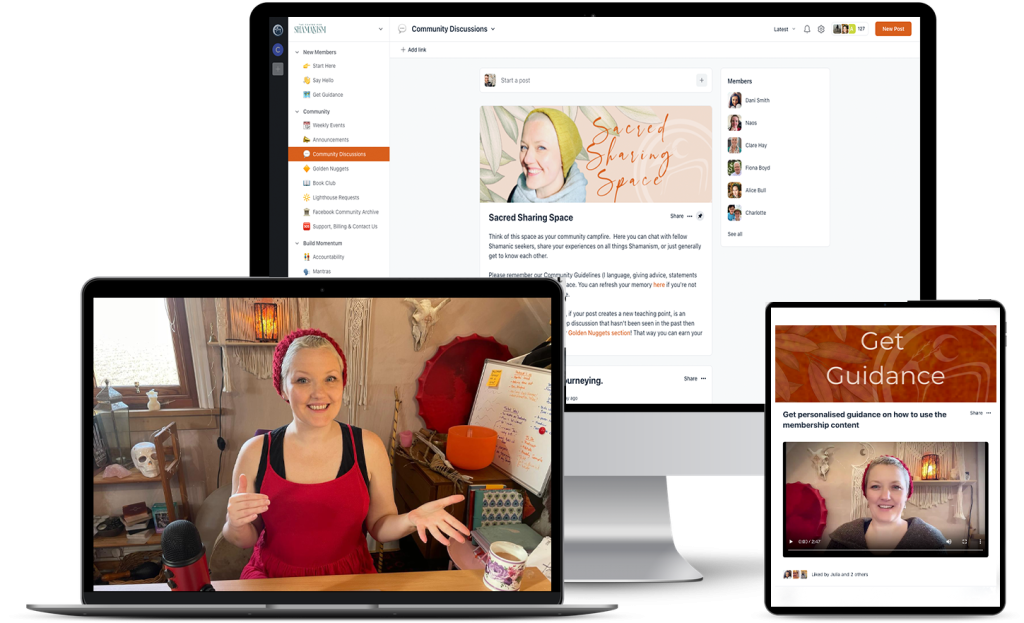 Subscribe & Review in iTunes
I'd love for you to subscribe to my podcast! I don't want you to miss an episode. I'm adding a bunch of bonus episodes to the mix and if you're not subscribed there's a good chance you'll miss out on those.
Now if you're feeling extra loving, I would be really grateful if you left me a review over on iTunes, too. Those reviews help other people find my podcast and they're also fun for me to go in and read. I'd love to know what your favourite part of the podcast is. Thank you!
Other ways to enjoy this podcast