ShamanTalk: Episode 61

Celtic Shamanism with Sam MacLaren
This week I'm delighted to welcome Sam McLaren to ShamanTalk! Sam is a Celtic seer, shamanic healer, animist, Reiki master, dancer, and musician. She also holds certificates in counselling and has extensive experience in mental health support.
 Sam adheres to a robust Celtic mystic and religious discipline through studies with Sharon Paice MacLeod, Celtic Scholar, linguist, and musician from Harvard University, with whom she is undertaking ongoing one-to-one training in Celtic history and religion. This course is ensuring that the information Sam imparts is as accurate as possible, which is vitally important for those seeking a genuine connection to our indigenous spirituality. Sam is currently studying a BA in Celtic Studies – University of Wales Trinity Saint David.
 Sam shares some of these fascinating insights about Celtic culture, dispels some myths and talk us through how to find out what's genuinely Celtic, and what simply isn't!
 Information shared on the Podcast:
 Medicine Wheel story:
https://centreforshamanism.com/wp-content/uploads/2021/03/Tara-PDF.pdf
 Try reading this story, then listen to Sam's free Medicine Wheel training in our Facebook community in the Units section.
Click here to join the community. 
 Sources for Celtic Information:
We often read or hear things about which we might like to check the sources.
 As discussed, Sam recommends using Google Scholar Not Wikipedia! Wiki is not a reliable academic source for this kind of work. 
www.britannica.com is also a good option.
 Recommended reading:
'Celtic Cosmology and the Otherworld' by Sharon Paice MacLeod
'Celtic Myth and Religion' by Sharon Paice MacLeod
'The Men of the North' Tim Clarkson
'The Gaelic Otherworld' John Gregorson Campbell
'Ancient Irish Tales' by Cross and Slover
'The Gallic War' by Julius Caesar
Activity this week
 Watch the free Training in the Community group and compare that training to the medicine wheel story above.
Compare the story and see if you can pull the salient points from the information – this will give you some practice in drawing the relevant elements through the later Christian additions.
Unlock live healing circles, ceremonies, a growing library of Shamanic workshops & more!
 Step into the Centre's very special Shamanic sanctuary. Inside Spiritual Momentum. you'll find live weekly gatherings, skill-building courses, a book club, and near-daily support from Rhonda and her team of trusted practitioners. 
Oh, it gets better! Get full and immediate access to ALL THE PERKS when you start a risk-free* membership today
*30-day 'no questions asked' money back guarantee.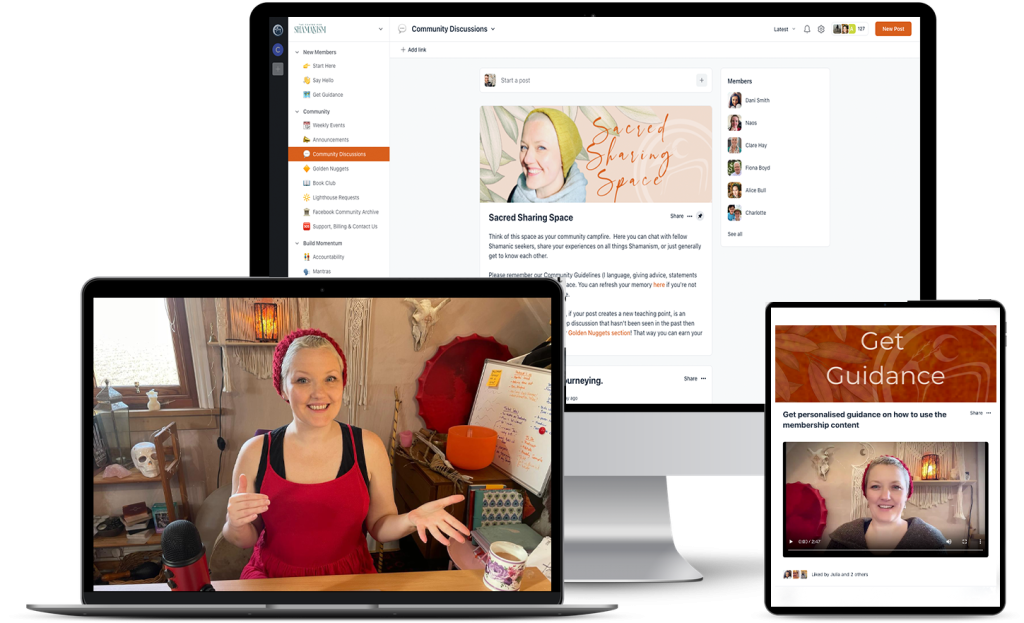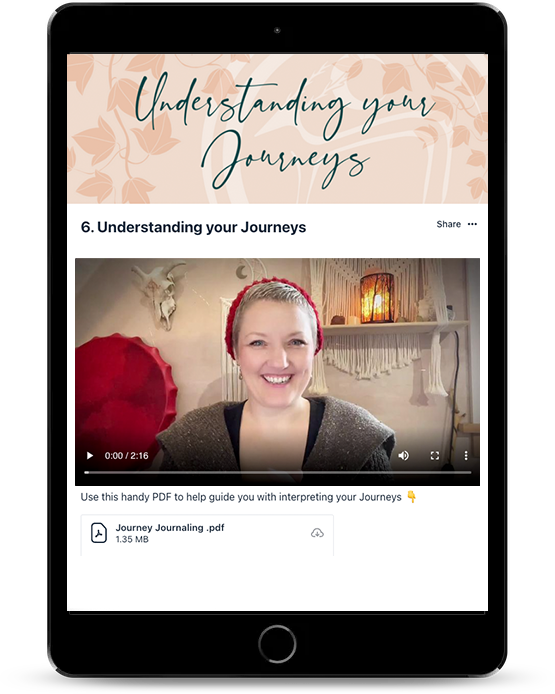 FREE COURSE: Learn how to…
Journey safely to the spirit realm &
interpret your experience with confidence
.
Beginner-friendly! Grab a simple, step-by-step process for journeying to the Spirit Realms & Celtic Otherworlds. Then take a guided journey led by an experienced Shamanic practitioner. So you can speak with your Spirit Guides and Power Animals.
Subscribe & Review in iTunes
I'd love for you to subscribe to my podcast! I don't want you to miss an episode. I'm adding a bunch of bonus episodes to the mix and if you're not subscribed there's a good chance you'll miss out on those.
Now if you're feeling extra loving, I would be really grateful if you left me a review over on iTunes, too. Those reviews help other people find my podcast and they're also fun for me to go in and read. I'd love to know what your favourite part of the podcast is. Thank you!
Other ways to enjoy this podcast