ShamanTalk Episode 77

Meeting, Creating & Working with Sacred Objects
This week we're getting practical! I want to share my understanding of Sacred Objects and how you can use them in your spiritual practice and daily life.
Let's start by describing a sacred object.
Whether a physical, energetic, spiritual or imaginative object, a Sacred Object can be a tool, a guide, a teacher, or a focus to develop and maintain intent. It can be a container to hold intent. It can be a tool to help funnel, transmit or transmute energetic intent from and/or to a greater power.
Remember that with Shamanic Practice, all things are sacred, and all things are alive. So, in reality, anything (and dare I say everything?) can be a sacred object.
Examples of natural sacred objects are:
Stones

Skulls and bones

Feathers

Leaves

Wood in all its forms
You might make an object:
You might be drawn to buy a sacred object:
Deity or animal statue

Bells

Drums/rattles again

Tarot or oracle cards
I also regard my computer as a sacred object that allows me to work online the way I do, and I treat it as such.
Some objects you may only use while you are working in your Journey World. These could include a special medicine you've received from a Guide, or a cloak you wear, a sword you wield or a shield that you hold in front to protect you.
Finding and receiving
Listen to the object.

Don't overthink it!

When asking permission to use the object as a Sacred tool, it's usually a yes!
Maintaining
Use your object

Have it out on your altar or on display in some way so you stay visually connected to it.

Keep it clean.
Blessing and naming
Ask the object what its name is

Treat it with respect and honour your object.

Spend a little time thanking your object for being.
Ceremony
Journey with your object in NOR (non-ordinary-reality) and ask your object if there is a Ceremony you can perform to welcome/bless/deepen your connection
Gifting
When gifting to another person, always communicate clearly what you are giving and why

Hold the intention that the gift is an invitation to receive the objects medicine.

When passing on a sacred object, ask the object first

Write the objects' story – how you came to have it, what medicine you received and why it's time to pass it along.
Activities & Journeys
Putting into practice what you've learned (or already know!), go for a walk in nature with the intention to meet a sacred object that would like to work with you.

Don't try too hard! Just relax into the walk and connect with your heart space.

When you find an object, spend some time holding and sitting with the energy of the object.

Ask the object if it's willing to join you for a time on your spiritual path.

Remember, most of the time; this will be a yes! If you do receive a no, thank the object, continue on your walk and have another go.

Welcome your object into your home, find a pace for it and perhaps journey to ask if there is a welcome ceremony you an offer.

Go into the Facebook group and share your object (with its permission, of course, it might only be for you, which is also OK.)
Unlock live healing circles, ceremonies, a growing library of Shamanic workshops & more!
 Step into the Centre's very special Shamanic sanctuary. Inside Spiritual Momentum. you'll find live weekly gatherings, skill-building courses, a book club, and near-daily support from Rhonda and her team of trusted practitioners. 
Oh, it gets better! Get full and immediate access to ALL THE PERKS when you start a risk-free* membership today
*30-day 'no questions asked' money back guarantee.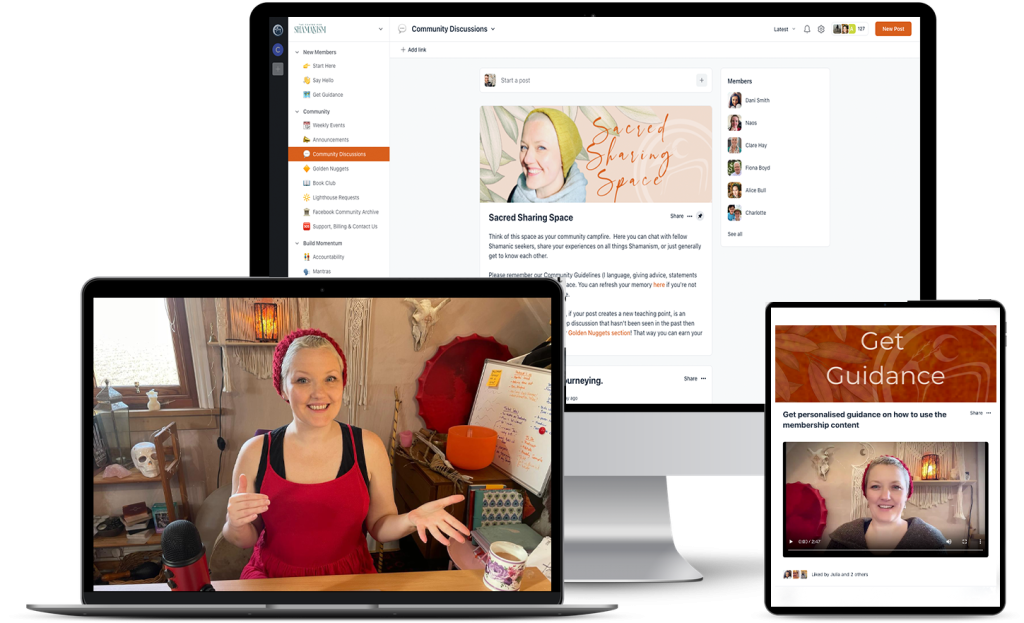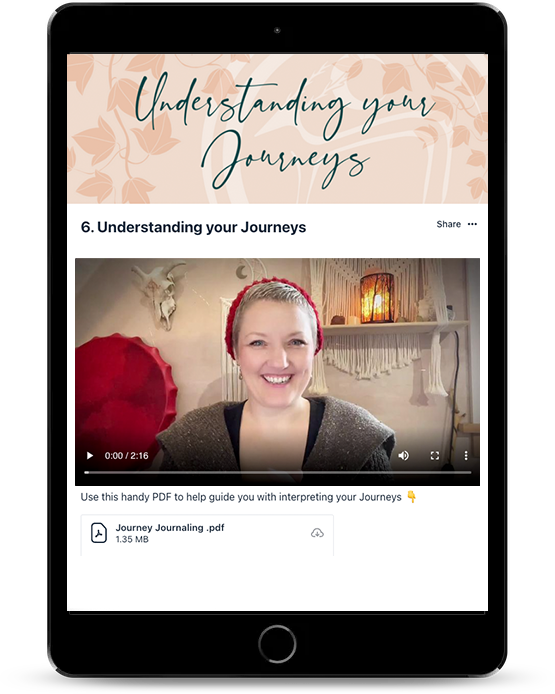 FREE COURSE: Learn how to…
Journey safely to the spirit realm &
interpret your experience with confidence
.
Beginner-friendly! Grab a simple, step-by-step process for journeying to the Spirit Realms & Celtic Otherworlds. Then take a guided journey led by an experienced Shamanic practitioner. So you can speak with your Spirit Guides and Power Animals.
Subscribe & Review in iTunes
I'd love for you to subscribe to my podcast! I don't want you to miss an episode. I'm adding a bunch of bonus episodes to the mix and if you're not subscribed there's a good chance you'll miss out on those.
Now if you're feeling extra loving, I would be really grateful if you left me a review over on iTunes, too. Those reviews help other people find my podcast and they're also fun for me to go in and read. I'd love to know what your favourite part of the podcast is. Thank you!
Other ways to enjoy this podcast
Disclaimer: The product links on this page are affiliate links and I will receive a small commission (at no extra cost to you) if you purchase through them.