ShamanTalk Episode 76

Dealing with Despair
Despair is a very familiar emotion for me. I spent most of my teens and twenties in a place of overwhelming despair, hopelessness, depression, anger, fear, anxiety…
Despair is not like other emotions—with other feelings, I can motivate myself in constructive ways.
Despair is unique in that it lacks energy.
Interestingly, a small but growing segment of the health care world has started to describe some conditions as "diseases of despair."
This idea suggests that some of the significant drivers of substance abuse, suicide and even certain chronic physical conditions are hopelessness, an absence of opportunity and unrealized desires for belonging.
Yet, I have learned two valuable lessons from the times when I have despaired myself.
I have discovered more profound compassion.
And I have experienced greater resiliency.
There are a few ways to deal with despair that I have found to be very helpful.
And I talk tough this week about despair; it will not be an easy discussion!
But it will be hopeful, practical, and actionable.
No matter how bad life seems, you can find the way out of despair.
We all need time to rejuvenate, so break your pattern. Take time to reflect on what you truly want out of life and what you must do to get back on course.
The answers often are not complicated. They are just hidden because you lost your focus on what's important under the blanket of despair.
Activities & Journeys
Journey with your Guides and ask to be shown your Blanket of Despair. What does it look like? What does it feel like? Then ask to see what lies beneath this blanket.




You may see what needs to be put into action.

You may be given healing to support the underlying issue.

Hold the intention that you will not bring back any feelings of despair from this journey.

2. Spend some time Journaling about your future life. What are your hopes and dreams? Regardless of how far-fetched they may seem!

Next, take these words on a Journey with your Guides and ask to be shown what steps you can take NOW to support you towards your ultimate destiny in this lifetime.
Unlock live healing circles, ceremonies, a growing library of Shamanic workshops & more!
 Step into the Centre's very special Shamanic sanctuary. Inside Spiritual Momentum. you'll find live weekly gatherings, skill-building courses, a book club, and near-daily support from Rhonda and her team of trusted practitioners. 
Oh, it gets better! Get full and immediate access to ALL THE PERKS when you start a risk-free* membership today
*30-day 'no questions asked' money back guarantee.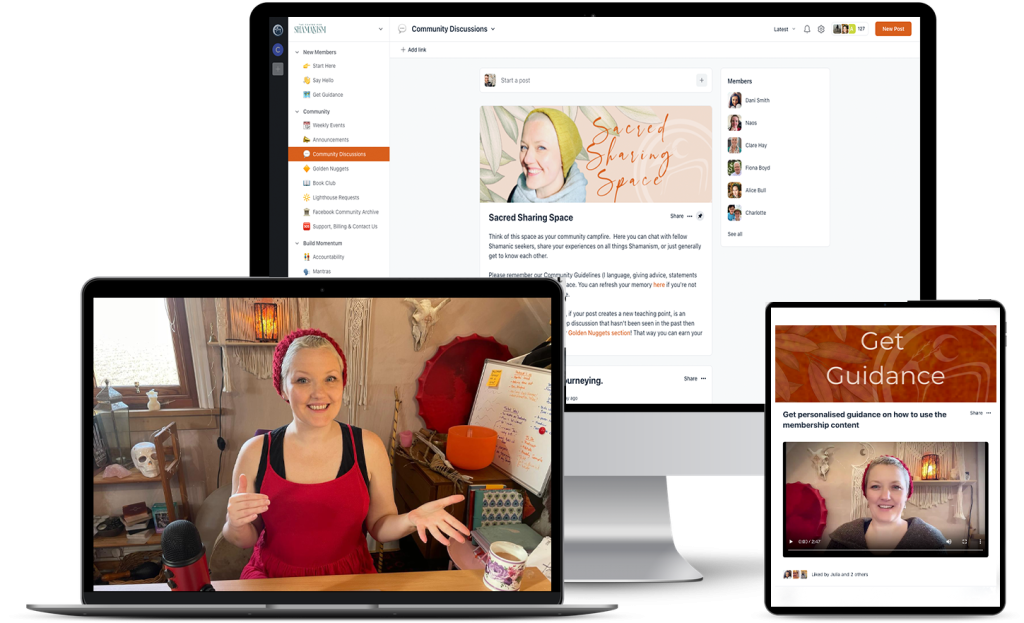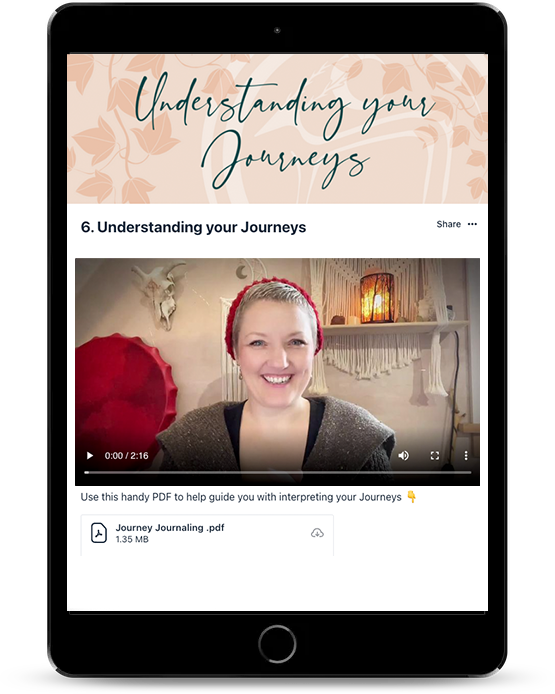 FREE COURSE: Learn how to…
Journey safely to the spirit realm &
interpret your experience with confidence
.
Beginner-friendly! Grab a simple, step-by-step process for journeying to the Spirit Realms & Celtic Otherworlds. Then take a guided journey led by an experienced Shamanic practitioner. So you can speak with your Spirit Guides and Power Animals.
Subscribe & Review in iTunes
I'd love for you to subscribe to my podcast! I don't want you to miss an episode. I'm adding a bunch of bonus episodes to the mix and if you're not subscribed there's a good chance you'll miss out on those.
Now if you're feeling extra loving, I would be really grateful if you left me a review over on iTunes, too. Those reviews help other people find my podcast and they're also fun for me to go in and read. I'd love to know what your favourite part of the podcast is. Thank you!
Other ways to enjoy this podcast
Disclaimer: The product links on this page are affiliate links and I will receive a small commission (at no extra cost to you) if you purchase through them.