ShamanTalk Episode 102

How to Find Closure
Within Your Heart
Finding closure within my heart became very important for me when my father died. 
Before he died, he wasn't able to tell me he loved me. We didn't express things like that to each other – I never knew why. 
As he lay dying, I told him I loved him, and he said, 'I know'—nothing in return. 
It was like a stake through my heart.
It left me with a feeling of something I couldn't put my finger on until I trained in shamanism:
I hadn't had closure.
His death had left me with an unfinished emptiness I thought I would never get over. 
I struggled with this for years until I found a way to seek closure within my own heart. 
I found peace through shamanic practice and Sacred Closure and moved on from that story which only held me back. 
Finding closure implies completely accepting what has happened and finding ways to honour the transition, but that can be very difficult to do in certain situations.

It's human nature to seek closure, and we can find it almost impossible to move forward if we don't have the type of closure we want, especially if we don't have access to the people or situations from which we need closure. 
The power of the past holds us 'in place'.
But finding closure isn't impossible. 
Working with Sacred Closure involves a few key steps:
Know that closure can be hard to reach.
You may have to perform many ceremonies and find serious willpower to move on from a person or event truly.
That's OK. Try not to feel shame or frustration, as this will choke the process. In contrast, try not to be a victim to the past – wallowing and using the past as an excuse to stay where you are; it's a tight rope of balance!

Know you are not alone. Call on your spiritual team, reach out to a professional and pull out your spiritual tool kit.


You need to decide to let go; closure comes from within. If you are still holding on to the notion that you will one day understand the behaviour of a deeply disturbed person, for example, that's unlikely. It is impossible to make sense of madness in another. And why would we want to go there anyway? It's a dark and dangerous place.


Take your power back. Move on if you are waiting to hear from someone else who has not been willing to communicate with you. This person may get in touch one day, and then you can decide at that point what to do.Don't worry about it in the meantime.
Activities & Journeys
I suggest doing these activities in order from the Journey to the Ceremony. It may take a bit of time, but that's OK!
Journey with your Guides and ask to experience the energy of closure. Take time in this space; notice how your body feels, see how your mind feels. If you encounter resistance to this energy, ask for healing. Then go back in and try again until you can really connect with this energy. It's OK if this takes time and you find yourself doing this multiple times. 
2. Sacred Closure Fire Ceremony (or Water if that's more appropriate for you with rice paper)
Set your Sacred Space and connect with your Guides (you can learn how to do that here – link to free intro workshop)
Light your fire in a way that is sacred for you and spend some time connecting to the energy of the Fire (or collect some water and connect similarly)
Then sit with the Fire (or Water) and write a letter to the person or situation that you wish closure from – really pour your heart out – allow every thought and feeling out and onto the page. Rage, jealousy, anger, resentment, sadness, confusion, helplessness, loneliness, fear, guilt, shame, inadequacy, frustration, emptiness…
Ask the Fire to transmute the energy you are releasing into loving light. 
Give your letter to the Fire (or Water) when you feel ready and watch as it burns. Allow yourself to feel the release of this powerful Ceremony.
Sit and watch the fire burn down to embers. Or sit with the Water for a while.
State – 'IT IS DONE' once may be enough, or you may feel like chanting this a few times. Perhaps rattle as you say these words. Then close your sacred space giving thanks to the Fire (or Water).
You can then spread the fire ashes in your garden or somewhere in nature to become food for other plants. You can pour the water out in your garden or nature in the same way.
Unlock live healing circles, ceremonies, a growing library of Shamanic workshops & more!
 Step into the Centre's very special Shamanic sanctuary. Inside Spiritual Momentum. you'll find live weekly gatherings, skill-building courses, a book club, and near-daily support from Rhonda and her team of trusted practitioners. 
Oh, it gets better! Get full and immediate access to ALL THE PERKS when you start a risk-free* membership today
*30-day 'no questions asked' money back guarantee.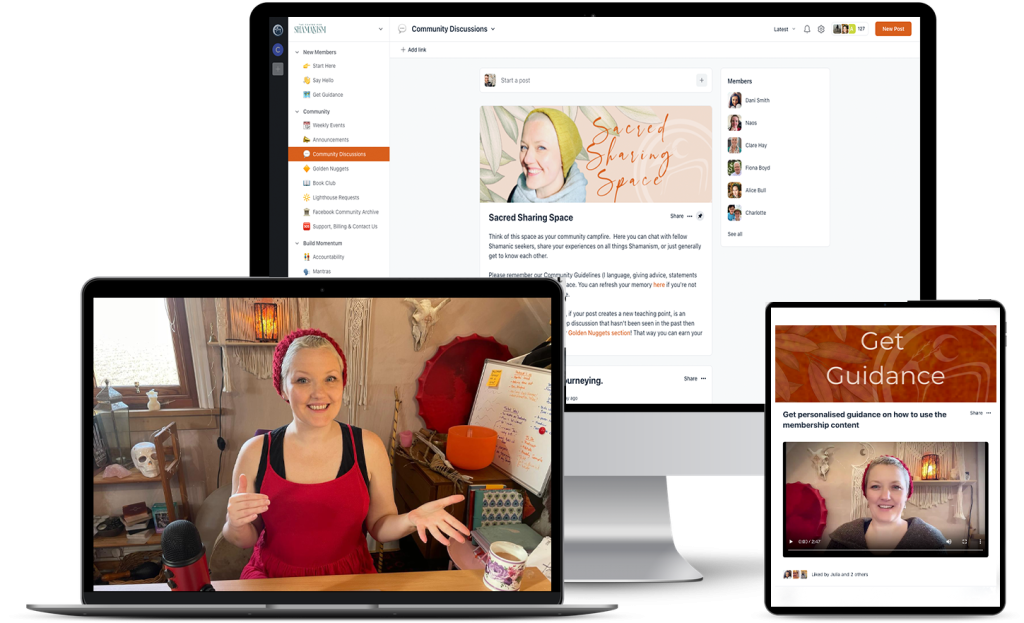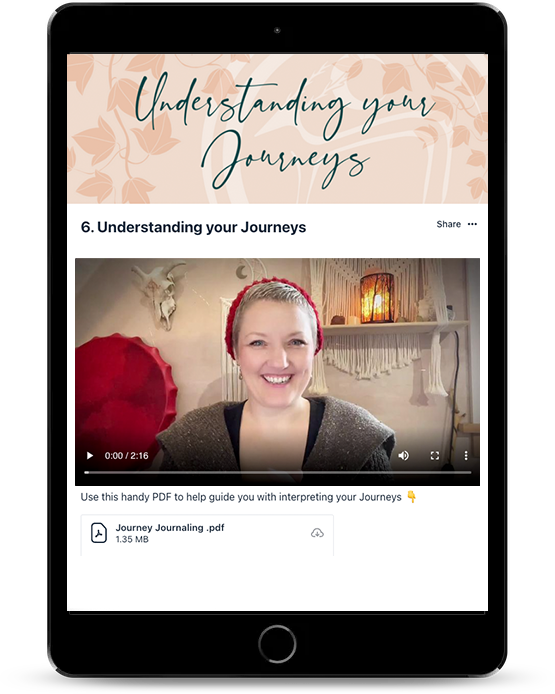 FREE COURSE: Learn how to…
Journey safely to the spirit realm &
interpret your experience with confidence
.
Beginner-friendly! Grab a simple, step-by-step process for journeying to the Spirit Realms & Celtic Otherworlds. Then take a guided journey led by an experienced Shamanic practitioner. So you can speak with your Spirit Guides and Power Animals.
Subscribe & Review in iTunes
I'd love for you to subscribe to my podcast! I don't want you to miss an episode. I'm adding a bunch of bonus episodes to the mix and if you're not subscribed there's a good chance you'll miss out on those.
Now if you're feeling extra loving, I would be really grateful if you left me a review over on iTunes, too. Those reviews help other people find my podcast and they're also fun for me to go in and read. I'd love to know what your favourite part of the podcast is. Thank you!
Other ways to enjoy this podcast
Disclaimer: The product links on this page are affiliate links and I will receive a small commission (at no extra cost to you) if you purchase through them.