ShamanTalk: Episode 35

Finding Freedom in Connection with Others
Finding Freedom by opening up to others
Working with Horse Spirit will remind us that freedom of choice, personal responsibility and direct revelation are all key components of an effective shamanic person.
But I think there is one part of being an effective shamanic person that is sometimes missed and it's vitally important. And that is being part of a sacred and trusted circle of people.
I see a lot of people who do this work alone. I hear various reasons for that:
You're new to Shamanism and haven't found a tribe yet

You don't feel safe sharing your practice with others or that you won't be welcomed

You feel you might be ridiculed or outcast

Avoiding being in a group to spare yourself from the reflections of others

You don't feel good or worthy enough to be part of a tribe

It's never crossed your mind that you need anyone else… you've always worked alone.

You've had a bad experience in the past and you prefer to work alone now rather than be hurt or feel unsafe.

You like to be in control of your spiritual life and don't like/worry about the chaos of other spiritual people

You are unable to work with others due to mental health (anxiety, depression etc.)
Be vulnerable. Be part of a Tribe. We are tribal people. And evolved for millennia in that way. We would not have survived otherwise.
Now in the past couple of hundred years, we've mostly moved away from tribal living. But I invite you to consider moving back in that direction in a way that's safe for you.
A healthy, safe and well-held community (online or otherwise) is a beautiful space for sharing and drawing inspiration. It's also a great place to explore your shadow side and do some deep inner work. I've never met anyone who didn't benefit, in some way, from moving out and being with others.
Go on a journey with your Guides and ask to be shown if you need to expand your connection with others. This Journey will likely be to the Upper World but your Guide may take you elsewhere and that's absolutely fine.
Make a note of the people in your life that you can share your journey work with. How many people are on the list? Do you trust them and feel safe, seen and heard with your spiritual experiences?
If the answer is yes, super! Keep that going.
Go on a Journey with your Guide and ask to be shown the next steps for you in terms of vulnerability & communication that will support your forward momentum on your Spiritual Path.
If the answer is either I have no-one, or I don't trust those I do have – then it might be time to make some changes?
Go on a Journey with your Guide and ask to be shown what needs to change in order that you can move forward with your spiritual work. (And by that I mean, does a relationship or friendship need to end? Do you need to seek out a new circle? Is there an attitude change required? Is there a new perception needed?)
When you do this work I encourage you to share your experience in the ShamanTalk podcast group. Please only share what is comfortable for you to share. But know that in sharing, we open ourselves up to a vast new world of heart connections.
Unlock live healing circles, ceremonies, a growing library of Shamanic workshops & more!
 Step into the Centre's very special Shamanic sanctuary. Inside Spiritual Momentum. you'll find live weekly gatherings, skill-building courses, a book club, and near-daily support from Rhonda and her team of trusted practitioners. 
Oh, it gets better! Get full and immediate access to ALL THE PERKS when you start a risk-free* membership today
*30-day 'no questions asked' money back guarantee.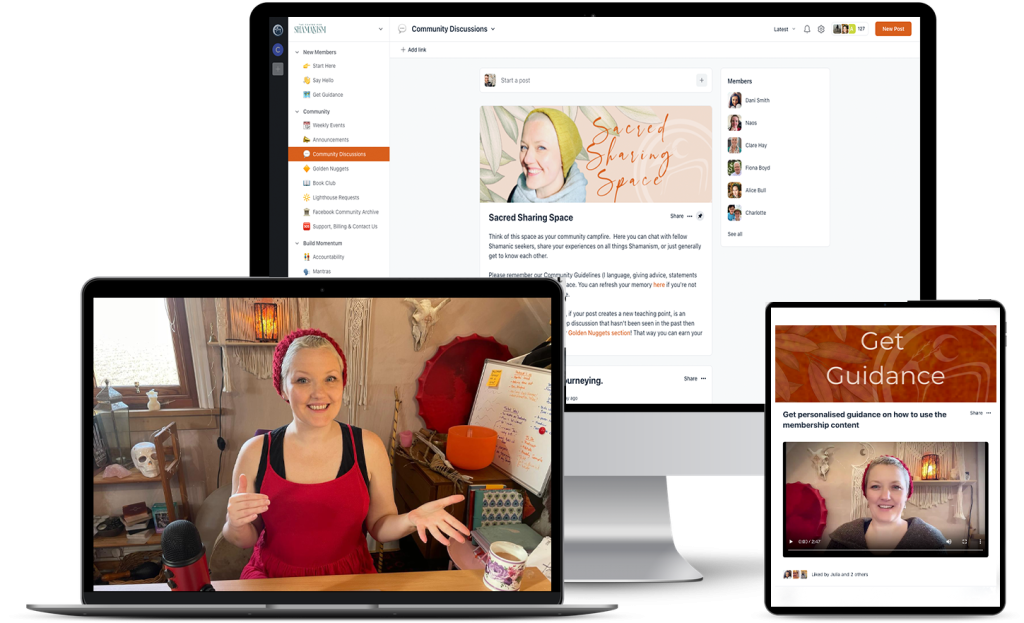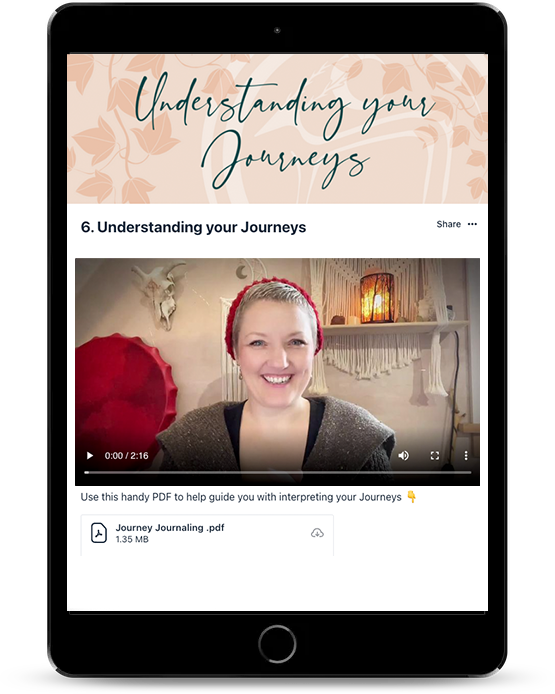 FREE COURSE: Learn how to…
Journey safely to the spirit realm &
interpret your experience with confidence
.
Beginner-friendly! Grab a simple, step-by-step process for journeying to the Spirit Realms & Celtic Otherworlds. Then take a guided journey led by an experienced Shamanic practitioner. So you can speak with your Spirit Guides and Power Animals.
Subscribe & Review in iTunes
I'd love for you to subscribe to my podcast! I don't want you to miss an episode. I'm adding a bunch of bonus episodes to the mix and if you're not subscribed there's a good chance you'll miss out on those.
Now if you're feeling extra loving, I would be really grateful if you left me a review over on iTunes, too. Those reviews help other people find my podcast and they're also fun for me to go in and read. I'd love to know what your favourite part of the podcast is. Thank you!
Other ways to enjoy this podcast