ShamanTalk: Episode 41

What's the point of all this work anyway?
When we're called to walk a path of personal and spiritual transformation, it can be easy to lose sight of what we are going and what we are trying to achieve. Or perhaps we're aiming for something that doesn't exist?
So what are we trying to achieve? Enlightenment? Always being Joyful & in Flow space? Being Happy?
I'm going to burst some bubbles here… life ebbs and flows and when we're happy and in flow state… then super! But how easily are we knocked out of that space when life happens around us? When we are faced with hardship, loss, break-ups and breakdowns?
Then we're not happy or joyful. Old stories and behaviours come up – we find ourselves acting in ways that really don't serve us. But it's happened before we even realise.
So what is it we need?
We need a toolkit – that's the point of the work. To build an effective, supportive toolkit that we can open at any time and know we have what we need to be able to ride this wave called life. We may not become an enlightened being – but we can become effective shamanic people.
But there's a step to this that many people miss. And that's the action and the work it takes to awaken our inner healer, fill our toolbox and move through life with as much grace as we can muster.
Some steps we can take include
Building confidence with our spiritual work
Learning how to work with our resistance
Finding Spiritual momentum and overcoming self-limiting beliefs to transformation
Working with effective boundaries in our life
Overcoming and avoiding the Blame Game
Understanding our shadow and how we can understand and integrate our worst bits
Learning how to be vulnerable and admitting when we need help – whilst also standing in a place of radical self-responsibility
Recognising and releasing old stories – we stay trapped by the stories we tell ourselves and those we have been told by others.
So, take those steps every day – whatever it takes, find a way to work towards a tool kit that actually works for you.
Activities this week
1. Write down all the self-care, spiritual steps, meditating, journaling, mantras, behavioural changes, counselling techniques, reiki, shamanic (or otherwise) steps you take or have taken in your life to support your personal and spiritual growth.
Spend some time and celebrate those steps.
Don't let that voice come in that says 'I should be doing more' or 'this isn't good enough'
Just spend some time in gratitude and thank yourself
Do this at least once a week to keep yourself motivated and in a positive place.
Unlock live healing circles, ceremonies, a growing library of Shamanic workshops & more!
 Step into the Centre's very special Shamanic sanctuary. Inside Spiritual Momentum. you'll find live weekly gatherings, skill-building courses, a book club, and near-daily support from Rhonda and her team of trusted practitioners. 
Oh, it gets better! Get full and immediate access to ALL THE PERKS when you start a risk-free* membership today
*30-day 'no questions asked' money back guarantee.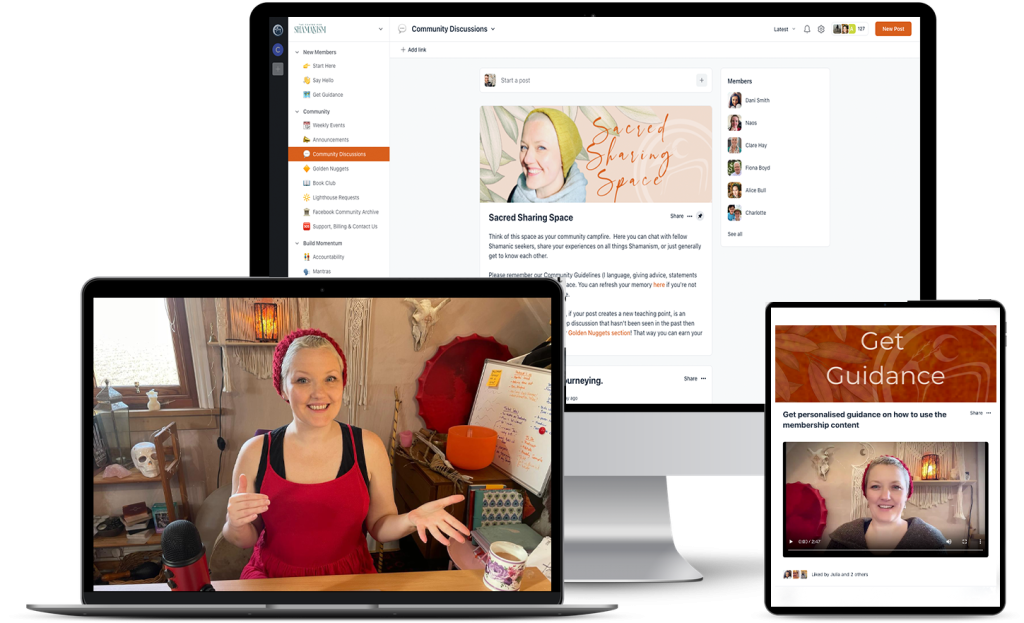 Subscribe & Review in iTunes
I'd love for you to subscribe to my podcast! I don't want you to miss an episode. I'm adding a bunch of bonus episodes to the mix and if you're not subscribed there's a good chance you'll miss out on those.
Now if you're feeling extra loving, I would be really grateful if you left me a review over on iTunes, too. Those reviews help other people find my podcast and they're also fun for me to go in and read. I'd love to know what your favourite part of the podcast is. Thank you!
Other ways to enjoy this podcast