ShamanTalk: Episode 57

My Name is Rhonda & I'm a Recovering Control Freak
What is a control freak?
Why do we do what we do? And can't seem to stop it?
Is there actually a way to recover from Control Freakery?
 Doing some research into this issue I see lots of posts about how to live with a control freak, how to 'deal' with a control freak but not but from the control freaks perspective.
In this episode I'm going to go through some painful truths I learned about myself as a control freak. While also exploring some of the reasons I and others suffer from this fate. And it is suffering! If you think living with a control freak is hard – try being one.
It took me a long time to figure out why I did what I did… but when I worked it out, it was really simple. That is often the way for me!
 Turns out, behind every controlling behaviour is deep-rooted fear. And an inner child who feels deeply unseen, un-heard and unable to express their needs in relationships.
 I share my story & my ongoing relationship with Control. I've tried to be as open as I can, even if a lot of what I felt at the time was shame and embarrassment. I chose courage over comfort and accepted the painful truth about my behaviour so I could heal and begin to move on.
 Not an easy journey but one I definitely recommend!
 Activities & Journeys 
   

An Inner Journey is where we don't 'go' anywhere but rather visit the spiritual aspect of ourself. It's a powerful way to connect with parts of our own Being.
 Go on an inner journey (into your body) with your guides and ask to be taken to meet your inner child. Remember that your Inner Child might come to you in any form so be open to that.
 Ask your inner child what you can do to nurture them and help make them feel safe.
 Take notes of these actions and put them into action.
   

Take time to write a journal about your Control. See it as separate from yourself.
 For example, today the control in my body was rude to my husband. I felt the control try to manipulate him into changing his behaviour around X or Y. I was able to tell my husband that the control was running riot and that the control was making me feel dangerous. I was able to tell him that I needed to take a time out. My husband was very understanding.
 By taking the time to actually write about your experiences, the power of narrative storytelling comes into play. So, I recommend not just 'thinking' of your Control as separate from you but also take the time to write it down. You can keep this writing private and at the end your project (whenever you feel complete with it) you can ask your Guides what the best thing is to do with all these written stories.
Unlock live healing circles, ceremonies, a growing library of Shamanic workshops & more!
 Step into the Centre's very special Shamanic sanctuary. Inside Spiritual Momentum. you'll find live weekly gatherings, skill-building courses, a book club, and near-daily support from Rhonda and her team of trusted practitioners. 
Oh, it gets better! Get full and immediate access to ALL THE PERKS when you start a risk-free* membership today
*30-day 'no questions asked' money back guarantee.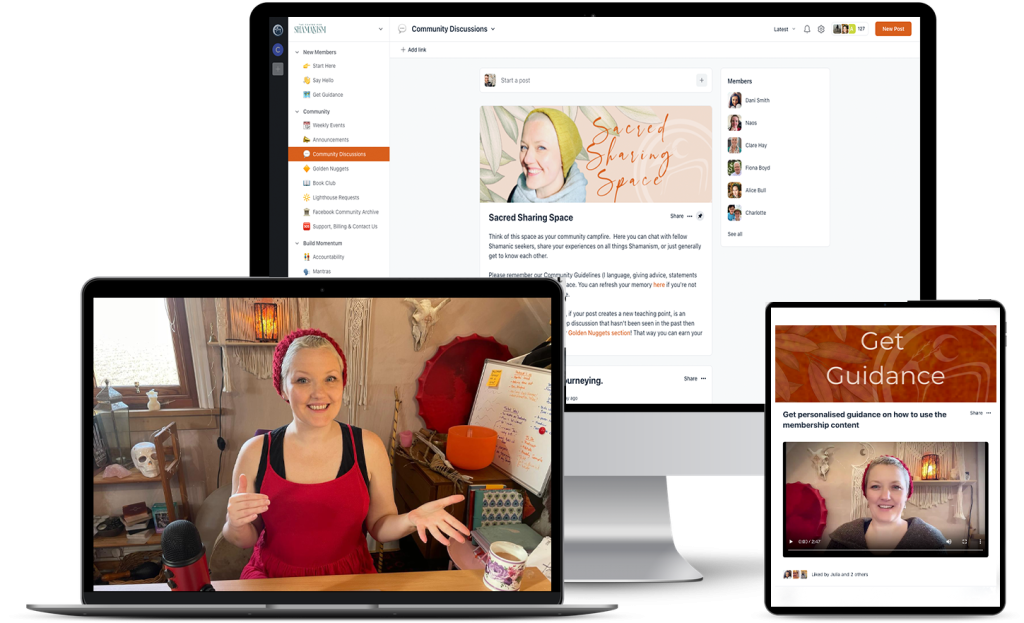 Subscribe & Review in iTunes
I'd love for you to subscribe to my podcast! I don't want you to miss an episode. I'm adding a bunch of bonus episodes to the mix and if you're not subscribed there's a good chance you'll miss out on those.
Now if you're feeling extra loving, I would be really grateful if you left me a review over on iTunes, too. Those reviews help other people find my podcast and they're also fun for me to go in and read. I'd love to know what your favourite part of the podcast is. Thank you!
Other ways to enjoy this podcast