ShamanTalk: Episode 58

Family, Change & Growth
This week I invited my daughter Eve to join me on ShamanTalk.
 We talk about some tough topics and how we work to overcome the difficulties of our past.
 We talk about Eve's irritation and frustration that came up when I started my shamanic path (I thought she would be pleased – nope!!).
 We talk about how I was emotionally unavailable for a lot of Eve's childhood and how we dealt with that. We talked about the impact that my shame around that had on Eve and ultimately real change only began to happen when I brought my shame out and into the light.
 We talk openly and vulnerably in the hope that others will resonate with our story. It's never too late to make those changes, to be accountable and to act with integrity.
 Our healing journey is ongoing but we walk the path together as an interdependent (not co-dependant) family.
Activities & Journeys
 Think back through your life. Think to your relationships now. Is there anything that you're holding back? Is there anything you feel shame about that you've not talked to someone about?
 I invite you, if you feel able, to communicate with someone you trust. Communicate with someone who has earned the right to hear your story.
 Once you've chosen a moment of shame that you wish to share, do a journey with your guides and ask them for support as you embark on the process of bringing your shame out and into the light.
Unlock live healing circles, ceremonies, a growing library of Shamanic workshops & more!
 Step into the Centre's very special Shamanic sanctuary. Inside Spiritual Momentum. you'll find live weekly gatherings, skill-building courses, a book club, and near-daily support from Rhonda and her team of trusted practitioners. 
Oh, it gets better! Get full and immediate access to ALL THE PERKS when you start a risk-free* membership today
*30-day 'no questions asked' money back guarantee.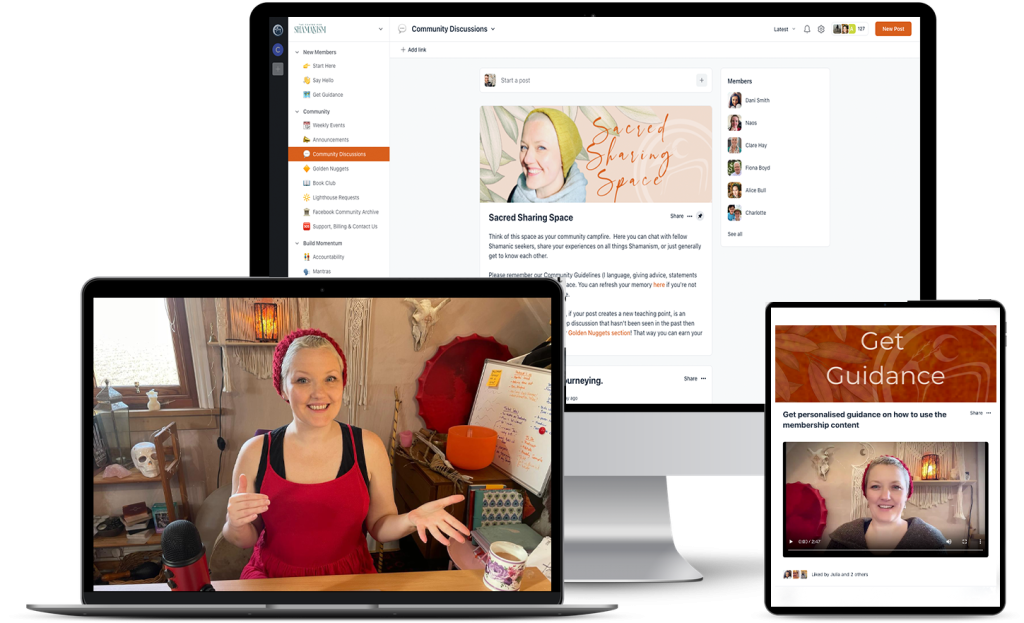 Subscribe & Review in iTunes
I'd love for you to subscribe to my podcast! I don't want you to miss an episode. I'm adding a bunch of bonus episodes to the mix and if you're not subscribed there's a good chance you'll miss out on those.
Now if you're feeling extra loving, I would be really grateful if you left me a review over on iTunes, too. Those reviews help other people find my podcast and they're also fun for me to go in and read. I'd love to know what your favourite part of the podcast is. Thank you!
Other ways to enjoy this podcast