ShamanTalk Episode 84

Understanding Your
Spiritual Messages
Many of my clients and students struggle with Journey Interpretation early on in their path. This week we dive into a comprehensive guide to understanding your spiritual messages.
 In order to receive messages, we need to have a clear INTENTION. Here are some pointers:
 

Don't ask too much and keep it simple

 

Don't change or add to your intention during the journey

Avoid fortune-telling – asking for actionable advice /healing

Avoid asking your Guides what you 'should' do – instead ask for actionable steps to reach your desired goal.

 

You don't have to remember your intention or the whole journey – relax

  

You can go with the same intention more than once. Your guides will let you know when you've had all the info you're going to get until you put things into action.
Once you've returned from your Journey with your pearls of wisdom, here are some things to think about.
DON'T GOOGLE IT
One of the biggest challenges to interpreting the messages we receive from our spirit guides is releasing our expectations and ego. So often we ask a question and we have an answer that we want in our minds. When we come from that perspective, we run the risk of twisting and turning each message or input we get to give us the answer we desire.
So, the first step in interpreting messages you get is to release the answer that you want to get and instead focus on what is coming across to you objectively. Ask yourself: What could the meaning of this message be? How does it relate to what I am asking about or dealing with?
Think of these top three-pointers:
THEME
METAPHOR
ACTION
 Here are some other ways that may help you interpret the message you receive:
Notice any themes in your messages. Connect to your intuition. Are you seeing/hearing a variety of messages that align with the issue you currently have that point to a solution for you?


If you have a song stuck in your head, write down the part of the song that is replaying in your head. You might not have the lyrics completely correct, but don't worry about that. Sometimes it is more about the concept than the actual words. How does the song relate to your question or situation?



 

If you need more clarity, you can try channelled writing. Say you've received a message, but you aren't sure what it means. You can write the message on a piece of paper and then ask your guides to give you more information. Clear your mind, put pen to paper, and wait for the words to start showing up in your mind. Actually, wait and watch /listen for the words to start showing up. When they do, start writing. Don't worry about grammar, spelling or even the content. Just write until the words stop coming. Then, when there are no more words, go back and read what you have written.



 

If you're really struggling, you could ask someone you trust or a Shamanic Practitioner to give you their perspective. Again, if something they say doesn't feel right, you can reject it. But conversing with someone else can give you different viewpoints on the message's meaning.
Activities & Journeys
With your Guides, ask to be taken on a learning journey. Ask your guides to show you the meaning and energy of Metaphor so that you can move into a clearer relationship with your spiritual messages.
Make notes of this Journey and apply what you've learned in this podcast to work out any messages you've been given.
 2. Go through your Journey notes and choose a journey that has elements you've yet to understand. Apply what you've learned in this podcast to the Journey.
 Theme
Metaphor
Action
Break down the symbolism bit by bit and think about each element separately and then how they might all tie together.
Unlock live healing circles, ceremonies, a growing library of Shamanic workshops & more!
 Step into the Centre's very special Shamanic sanctuary. Inside Spiritual Momentum. you'll find live weekly gatherings, skill-building courses, a book club, and near-daily support from Rhonda and her team of trusted practitioners. 
Oh, it gets better! Get full and immediate access to ALL THE PERKS when you start a risk-free* membership today
*30-day 'no questions asked' money back guarantee.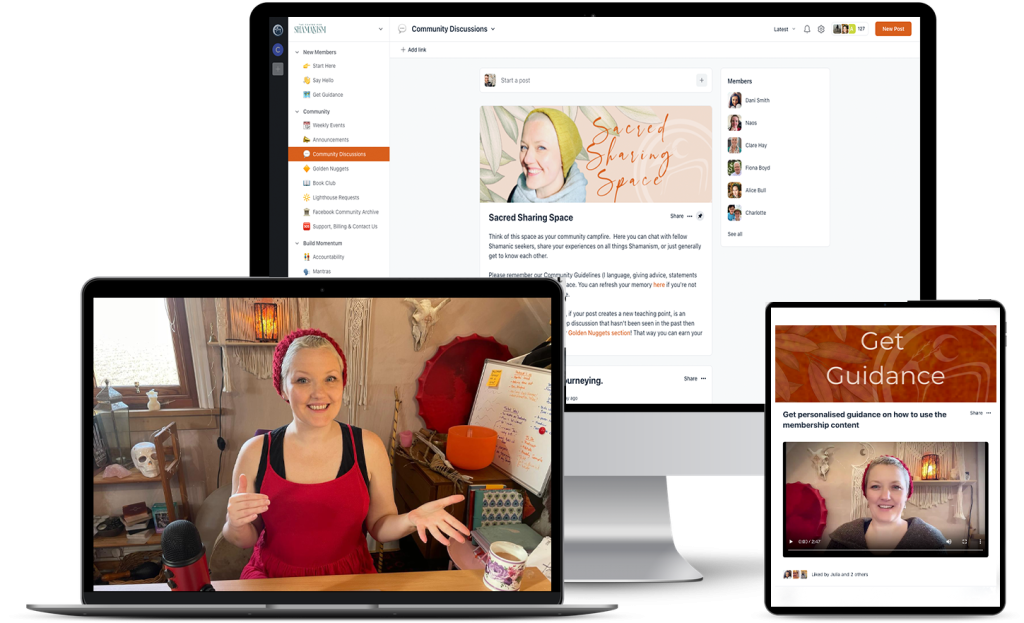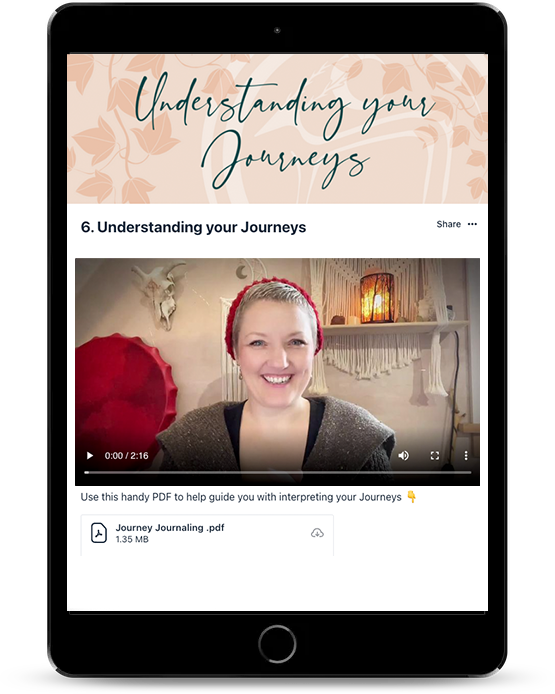 FREE COURSE: Learn how to…
Journey safely to the spirit realm &
interpret your experience with confidence
.
Beginner-friendly! Grab a simple, step-by-step process for journeying to the Spirit Realms & Celtic Otherworlds. Then take a guided journey led by an experienced Shamanic practitioner. So you can speak with your Spirit Guides and Power Animals.
Subscribe & Review in iTunes
I'd love for you to subscribe to my podcast! I don't want you to miss an episode. I'm adding a bunch of bonus episodes to the mix and if you're not subscribed there's a good chance you'll miss out on those.
Now if you're feeling extra loving, I would be really grateful if you left me a review over on iTunes, too. Those reviews help other people find my podcast and they're also fun for me to go in and read. I'd love to know what your favourite part of the podcast is. Thank you!
Other ways to enjoy this podcast
Disclaimer: The product links on this page are affiliate links and I will receive a small commission (at no extra cost to you) if you purchase through them.