ShamanTalk: Episode 27

Spring Clean Your Spiritual Life in Six Easy Steps
It's Spring. If you're anything like me then you're noticing those corners. And maybe the cobwebs as well!
My house has an Oak frame and really lends itself well to sneaky cobwebs.
When the light is around longer and we feel the real promise of Spring, it makes me want to clean house. Get ready for the Summer. Get ready for the light. So the dusters come out!
I was reminded the other day in a journey that Spring Cleaning our Spiritual 'stuff' is just as important – we can stop it getting stale and samey.
There's nothing like monotony and boredom to choke off a Spiritual Path.
And that's what this episode is all about. 6 ways I use to check in with myself and my work.
In this episode I talk about:
Using the season of Spring to support you.
De-clutter your spiritual 'to-do' list
Sprucing your Core Values
Check in with your Souls Purpose
Spring Clean your relationships
Overhauling your Attitude
FREE EPISODE DOWNLOAD
The download has 6 key steps PLUS 6 suggestions for Shamanic Journeys you do to support each step. Super Simple. Actionable. Focused. What more do you need to support a Spring Clean?
Unlock live healing circles, ceremonies, a growing library of Shamanic workshops & more!
 Step into the Centre's very special Shamanic sanctuary. Inside Spiritual Momentum. you'll find live weekly gatherings, skill-building courses, a book club, and near-daily support from Rhonda and her team of trusted practitioners. 
Oh, it gets better! Get full and immediate access to ALL THE PERKS when you start a risk-free* membership today
*30-day 'no questions asked' money back guarantee.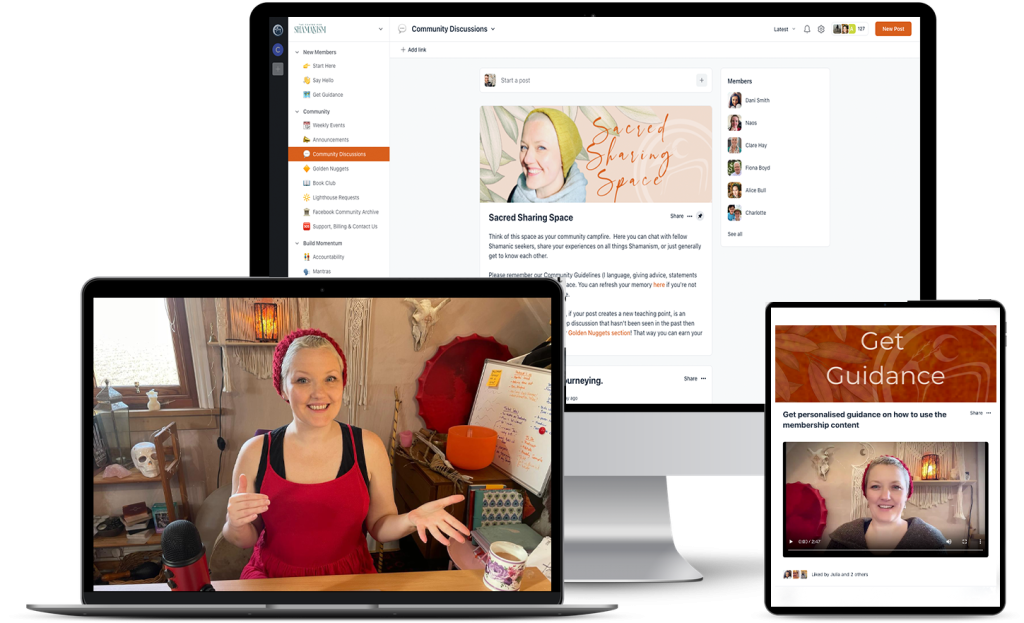 Subscribe & Review in iTunes
I'd love for you to subscribe to my podcast! I don't want you to miss an episode. I'm adding a bunch of bonus episodes to the mix and if you're not subscribed there's a good chance you'll miss out on those.
Now if you're feeling extra loving, I would be really grateful if you left me a review over on iTunes, too. Those reviews help other people find my podcast and they're also fun for me to go in and read. I'd love to know what your favourite part of the podcast is. Thank you!
Other ways to enjoy this podcast