ShamanTalk Episode 89

The Importance of Identifying & Meeting
Your Own Needs
We all have needs. But what exactly are needs? More specifically, what are our own needs? Many have no idea! In this weeks episode we discuss needs, how to figure out what our own individual needs are, and who is responsible for meeting those needs (hint – usually you!).
What are needs?
Needs are feelings or conditions we need to feel happy, fulfilled, or at peace. Without them, we may feel frustrated, hurt, or dissatisfied. Some examples of emotional needs might include feeling appreciated, feeling accomplished, feeling safe, or feeling part of a community. 
Why Meeting Needs Matters
The reason it's essential to satisfy our needs is that we feel emotional pain when they're not met. You may be in pain and not know why or which needs are not being fulfilled. When our needs are met, we feel happy, grateful, safe, loved, playful, alert, and calm. When they're not, we're sad, fearful, angry, tired, and lonely.
We have many needs that you may not have considered. For example, although some of us are good at meeting physical needs, we may not identify emotional needs if those were ignored in childhood. 
How We Got This Way
Usually, this way of thinking starts in childhood. We rely on our parents for our emotional needs — love, comfort, support, validation, etc. And we don't often develop emotional self-reliance skills as kids because parents (out of love for us) do their best to provide for all these needs.
And then we become adults without having learned emotional self-reliance. And so, we look for someone else to fill our emotional needs. 
Activities & Journeys
We look for happiness from others, but this is an unreliable source of joy. Other people will come and go, or they'll be emotionally unavailable for their own personal reasons.
And here's the thing: it's not their job to fill our emotional needs. Instead, they are struggling to try to meet their own needs.
The compassionate way to go is to avoid looking for happiness from someone else and to commit to finding it within ourselves.
Consider these suggestions:
Sit by yourself, without a device or distraction, for a few minutes. Look inside. Get to know your thoughts. This can be an endless source of entertainment and learning. I often do this with a journal and write my thoughts as they appear. That can be very helpful.


Learn to fix your own problems. For example, if you are bored, fix it. If you are lonely or hurt, comfort yourself. If you are jealous, don't hope that someone will reassure you … reassure yourself.


Take responsibility. If you find yourself blaming others, tell yourself that the other person is never the problem. Of course, you can believe the other person is the problem, but then you rely on them for the solution. If you think that they aren't the problem, then you look inside yourself for the answer.


If you find yourself complaining, instead find a way to be grateful.


If you find yourself being needy, instead find a way to give.



 If you find yourself wanting someone to help you, help yourself.
2- You can also Journey with your Guides and ask to be connected to the energy of your own needs. 
This intention will support you to KNOW your needs on an energetic level and make it easier for you to give voice to those needs both to yourself, and where appropriate, to others. You can't communicate what you don't know! 
Use the list below to support your connection with your needs:
Knowledge
Independence
Acceptance
Safety
Authenticity
Purpose
Family
Meditation
Awareness
Empowerment
Affection
Shelter
Honesty
Self-growth
Friendship
Contemplation
Reflection
Self-knowledge
Be understood
Medical Care
Fairness –Equality
Self-expression
Cooperation
Reverence
Joy

Movement
Values
Goals
Companionship
Inspiration
Intimacy
Pleasure
Self-respect
Beauty
Appreciation
Assertiveness
Generosity
Hope
Clarity
Boundaries
Support
Water
Confidence
Creativity
Reciprocity
Peace
Discernment
Freedom
Trust
Air
Meaning
Humour
Community
Order
Comprehension
Solitude
Nurturing
Sex
Pride
Play
Reliability
Gratitude
Stimulation
Courage
Love
Health
Self-worth
Passion
Communication
Faith
Learning
Grieving
Food
Unlock live healing circles, ceremonies, a growing library of Shamanic workshops & more!
 Step into the Centre's very special Shamanic sanctuary. Inside Spiritual Momentum. you'll find live weekly gatherings, skill-building courses, a book club, and near-daily support from Rhonda and her team of trusted practitioners. 
Oh, it gets better! Get full and immediate access to ALL THE PERKS when you start a risk-free* membership today
*30-day 'no questions asked' money back guarantee.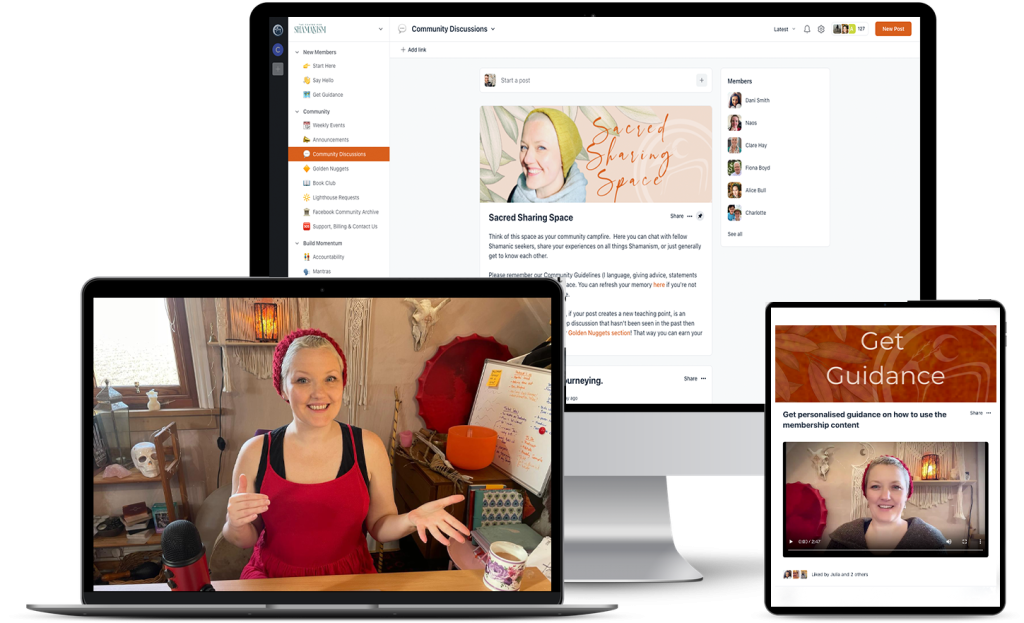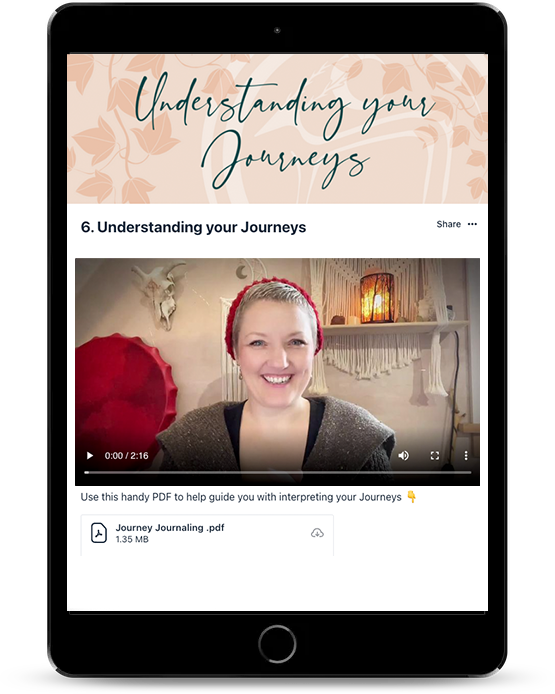 FREE COURSE: Learn how to…
Journey safely to the spirit realm &
interpret your experience with confidence
.
Beginner-friendly! Grab a simple, step-by-step process for journeying to the Spirit Realms & Celtic Otherworlds. Then take a guided journey led by an experienced Shamanic practitioner. So you can speak with your Spirit Guides and Power Animals.
Subscribe & Review in iTunes
I'd love for you to subscribe to my podcast! I don't want you to miss an episode. I'm adding a bunch of bonus episodes to the mix and if you're not subscribed there's a good chance you'll miss out on those.
Now if you're feeling extra loving, I would be really grateful if you left me a review over on iTunes, too. Those reviews help other people find my podcast and they're also fun for me to go in and read. I'd love to know what your favourite part of the podcast is. Thank you!
Other ways to enjoy this podcast
Disclaimer: The product links on this page are affiliate links and I will receive a small commission (at no extra cost to you) if you purchase through them.